Description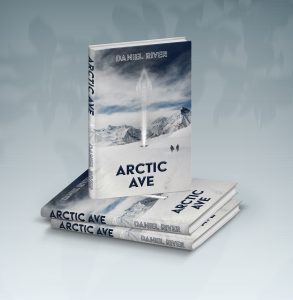 Arctic Ave Book: Life takes strange turns – most of them are unexpected and will pull you into an abyss you didn't even know could exist. So what happens when Kate gets herself caught in an abyss of prime murder suspect in the case of none other than her father's- a media mogul's untimely death! Although, situations are never as one-dimensional as they seem. Can you imagine an entertainer like Kate's father being more than he pretends to be?
Can he be part of a conspiracy that will unravel as you read on? What on earth did the Media mogul discover that the superpowers wanted none to know about? How many more deaths, uncovering of graveyards, and trips around the world would there be before the iciness of the Arctic reveals what lies beneath it?
Read Daniel River's first installment of Antarctica book series. Arctic Ave book. Antarctica Stories – A chilling mystery thriller. Start reading about the mysterious death of Kate's father. Find out what leads here to the remote frozen continent Antarctica. Buy book about Antarctica here and start reading a thrilling story. The first Antarctica book is available now.
Antarctica, the world's fifth largest continent. The most southern continent. It is also the world's highest, windiest, coldest, driest, and iciest. The continent of Antarctica is about 5.5 million square miles (14.2 million square km) in size. Antarctica's name means "opposite to the Arctic." Antarctica represents about 90 percent off the world's ice and about 80 percent of its fresh water. Buy Antarctica book here and read a fiction thriller about this far remote place.
Antarctica stories are mysterious to us. They are rooted in a place far from us. A place that most of us have never visited. A place most of us will never see in person. Antarctica stories fascinate us. They are thrilling, adventurous, and more. Antarctica is full of wonder. Stories that are told involving this continent are unique. It is a place, not many have told stories about. Mainly, not much is known about Antarctica. There have been a handful of movies and books that involved Antarctica on some level. Both fiction and non-fiction.
There is for example an Antarctica survival story. Some Antarctica fiction books are available. Arctic Ave book is one of those. A mystery thriller involving Antarctica. In a way, it is also an Antarctica survival story. Some movies included the continent as a location as well. Usually Science Fiction or Horror type of movies/stories. A story of Antarctica intrigues us. Yet, there are only a few documentaries, books, and movies. Very little is known. Only some researchers have been there physically. It is a reason; we have so little content about this big place. More Antarctica fiction books will be published in the future. Buy Antarctica book such as Arctic Ave and get started reading about Antarctica.
There have been very few expeditions that were larger or known to the public. The Nazi regime went on an expedition, as well as the US, after WW2. No other public expeditions have been announced to the public. Private travel is restricted. Permissions are not easily granted to visit Antarctica. This adds to the mystery. Some ancient crashes have been discovered recently. There is much to still uncover in Antarctica. Another Antarctica book "Arctic Record" is scheduled to be released in December 2022 by author Daniel River.
Want to buy a book about Antarctica? Try this Arctic Ave Book! Let me know if you liked the story. Buy Arctic book on this website. A clever murder mystery that leads to Antarctica. If you are looking to read a fiction book, try this one. Are you are looking for a mystery thriller? Why buy book about Antarctica? To get lost in a wild story and adventure. Look no further if you are a fan of thrillers and mystery books. Buy arctic book here on this website. Get lost in a fascinating mystery thriller. Find out what leads Kate a daughter of a murdered media mogul to Antarctica. A great Antarctica book to read and be entertained.
The earliest beginnings of Antarctica extends far back as 3 billion years, into early Precambrian time. Evolutionary phases began by about 70 million years ago, late in the Mesozoic Era. Antarctica became isolated with the opening of the Drake Passage sometimes between 49 million and 17 million years ago.
From the late 18th to the mid-20th century, whalers and sealers surrounded the continent, which science then replaced as the primary activity around and in Antarctica. Governments went on early expeditions. Then, in the years 1957-1958 the International Geophysical Year (IGY) and the twelve countries active in Antarctica signed the Antarctic Treaty. Are you interested in Antarctica? Want to read more about it? Take a look at my Arctic Ave blog on this site. Want an Antarctica book? Get started with Arctic Ave, a mystery thriller.